Description
Here at Cold War Concealment, we're obviously a little bit biased towards Kydex holsters, since that is what we build here in house.  Over the years, we have had several traditionalist customers who were only interested in leather gear.  Until now, we haven't had anything to offer people who want the traditional leather for their guns.  Now we are proud to be an official dealer for Versacarry!  Let's take a good look at their Compound holster!
Combining the rigidity and wear resistance of Kydex with the comfort and classic good looks of leather, the Compound Series offers the best of both worlds. Ingeniously, Versacarry accomplishes this feat by sandwiching the plastic between two layers of water-buffalo hide, giving the softer material a superstructure … a backbone if you will.
The results are a stiff holster with excellent draw characteristics that reduces wear on a gun's finish and is soft against the carrier's body. Even better, it won't collapse when you are re-holstering your gun. Furthermore, the rig is light (6.4 ounces), comes with a belt clip system for easy removal, boasts a retention screw and comes in four different frame sizes to fit most handguns.    
The Compound is a true hybrid holster unlike what is available from any other manufacturer. The unique design allows all of the comfort of  leather with the structural properties of a Kydex holster. The firearm itself never makes contact with the Kydex, making it as comfortable for the firearm as it is for the user.
The layer of Kydex is embedded between layers of premium water buffalo leather. It is non-collapsible and features an exposed track of Kydex recessed in the leather to avoid the front sight from snagging allowing for a clean draw. The merging of the two materials (water buffalo leather and Kydex) virtually eliminate unwanted stretching in the material. 
Like everything here on our website, these are made in America, individually handcrafted at Versacarry's Bryan Texas facility. The Compound (IWB) features include:
---
EMBEDDED KYDEX SPINE
Unlike the other hybrid holsters on the market, we have taken ours one step further. Our Kydex has been sewn between the leather so that it does not come in contact with your handgun, yet while still giving all of the high rigidity that a Kydex holster can offer.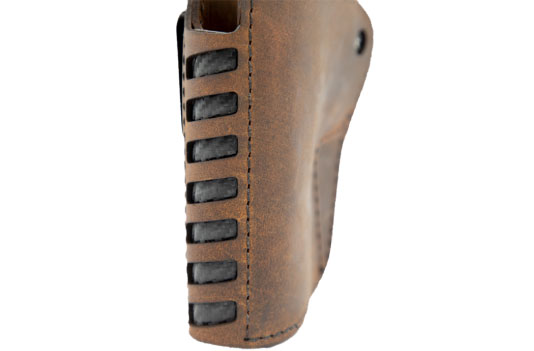 ---
NON-COLLAPSIBLE 
Engineered with Kydex inlaid in-between leather layers to be not only non-collapsible, but more rigid. Important to note that this will allow you to holster your gun with one hand, because of that rigidity. This added layer will never come in contact with your gun.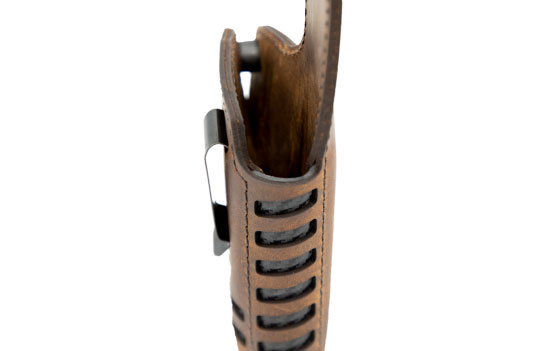 SIGHT TRACK 
From the Kydex embedded into the leather, we have left a recessed portion that will keep your front sight from snagging while you draw.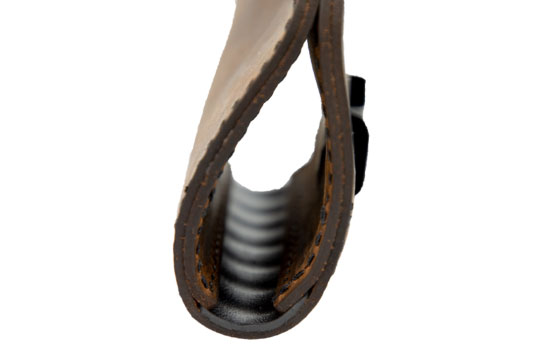 ---
DOUBLE-PLY BACKING 
Holsters with multiple layered backings serve numerous purposes which include extra comfort, more prolonged use, and better support for your handgun. It is vital that if you are going to carry that you not only have a holster that is comfortable but one that you can trust to contain your handgun securely.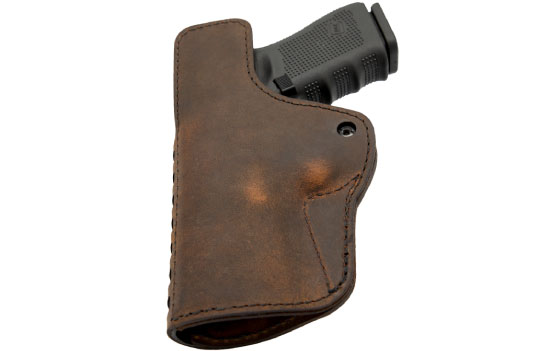 ---
EASY ON/OFF CLIP 
Say goodbye to having to unbuckle your belt every time you need to take your holster off.  Versacarry did a great job designing this for convenience so that when you need to take your gun/holster off it can be done within seconds.  The position of the clip adds a slight forward cant to your gun, helping both comfort and concealment.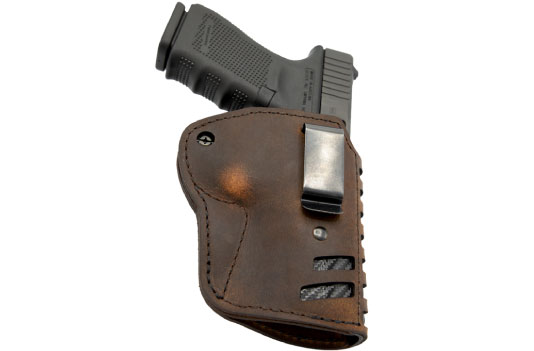 Versacarry Compound Gen II Inside Waistband Holster, FITS SIG SAUER P365/XL, Distressed Brown Color, Water Buffalo Leather and Kydex, Right Hand CE211365